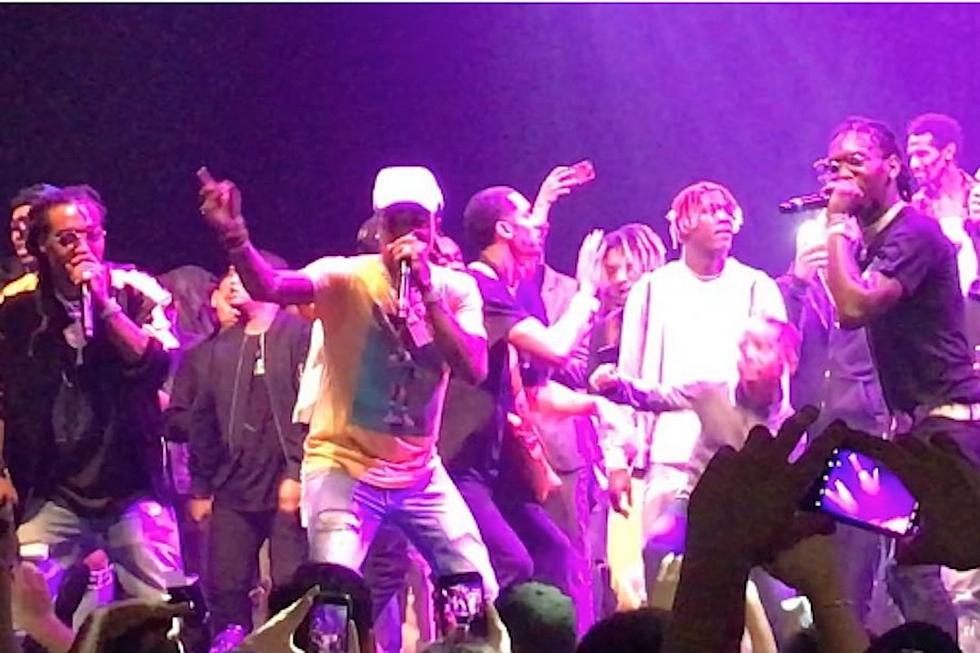 Migos Bring Out Chance The Rapper, Lil Yachty, 2 Chainz, YG and Ty Dolla Sign to Perform "Bad and Boujee"
Migos via YouTube
To no one's surprise, "Bad and Boujee" is more than Donald Glover's favorite song, your favorite rapper knowing all the words and motions to the Migos chart-topper as well. Fresh off touching the Jimmy Kimmel Live! stage, the was group in Los Angeles for a show at The Novo Wednesday night (Jan. 18) bringing out a staggering number of rappers and celebrities to join them in performing the Culture smash.
As seen in the video above, or the many clips below, Chance The Rapper, Lil Yachty, 2 Chainz, YG and Ty Dolla Sign all joined in the fun, as did Los Angeles Lakers Nick Young and Jordan Clarkson. There is plenty to enjoy from the concert footage, the entire stage pointing "dat way" or the visible excitement that washes over as those onstage anticipate the song's anthemic hook.
The group will drop their highly-anticipated new album Culture this month, on Jan. 27, a New York City concert at the Highline Ballroom scheduled to take place the same day. After a brief run atop the Billboard Hot 100 chart, "Bad and Boujee" has slipped a single notch to No. 2 this week, replaced by Ed Sheeran's new release "Shape of You."
Catch the fanfare around last night's performance above and below, the joy of "Bad and Boujee" knowing not a single boundary. Could these high-profile names be potential remix additions? The possibilities and combinations seem endless.
20 of Your Favorite Rappers Naming Their Favorite Rappers