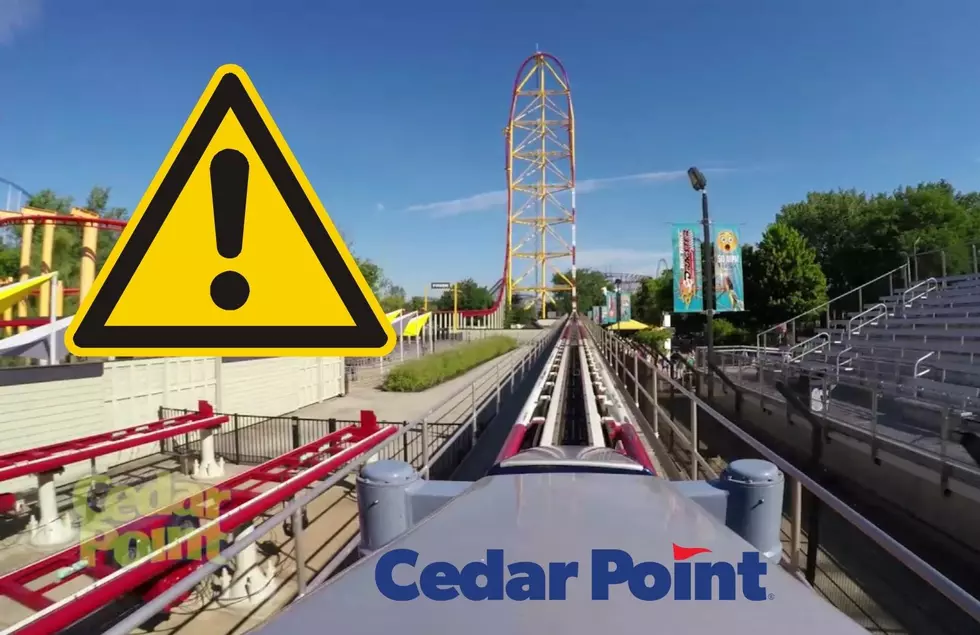 One of Cedar Point's Most Dangerous Rides To Be Retired
Cedar Point / Canva
Roller Coasters exist to give us that incredible feeling in the pit of our stomachs that we're on a wild adventure, without putting us in actual danger. However, some times rides are a little more dangerous than we expect them to be, or have accidents that no one can predict.
And one roller coaster that has had a troubled past previously at Ohio's Cedar Point is the Top Thril Dragster.
And after this year, it will be no more according to a statement from Cedar Point:
We have an important update to share regarding our Top Thrill Dragster roller coaster. After 19 seasons in operation with 18 million riders experiencing the world's first strata coaster, Top Thrill Dragster, as you know it, is being retired.

However, Cedar Point's legacy of ride innovation continues. Our team is hard at work, creating a new and reimagined ride experience. We'll share more details and information at a later date.
Why are they closing the Top Thrill Dragster roller coaster?
As of right now, Cedar Point has not given an answer as to why the ride is closing. In their statement, they plan to give more details and explain the final day of the ride. But, we do not have that information at this time.
Why is the Top Thrill Dragster Roller Coaster so dangerous?
While one of the first of it's kind- it's had troubled past since it's launch in 2003 as the tallest roller coaster in the world.
According to wikipedia, there have been three incidents in which someone was injured while riding or waiting in line for the ride.
July 14, 2004: four people riding Top Thrill Dragster were struck by metal debris that sheared off the coaster's launch cable during launch. 
August 7, 2016: a launch cable became detached on the ride. Two passengers were evaluated at the park's first aid station and later released.
August 15, 2021: a guest waiting in line was struck in the head by a piece of metal after it became dislodged from the ride by a passing train that was nearing the end of its run. She was taken to a nearby hospital for treatment and then transferred to an intensive care unit, where it was determined that she had suffered a brain injury.
The last of the incidents is likely the reason the ride will no longer be in operation. The woman who was injured last summer's condition has not been released to the public. Following the incident, the ride has remained closed for the remainder of the 2021 season, and would not reopen for the 2022 season.
Will we get to ride it one last time?
At this time that has not been announced - you will want to keep an eye on cedar point's website for further updates on the fate of this ride.
See the Age of Each Coaster at Cedar Point
The 16 main coasters at Cedar Point have been thrilling guests for over 400 years combined. These ages are as of August 22nd, 2022.