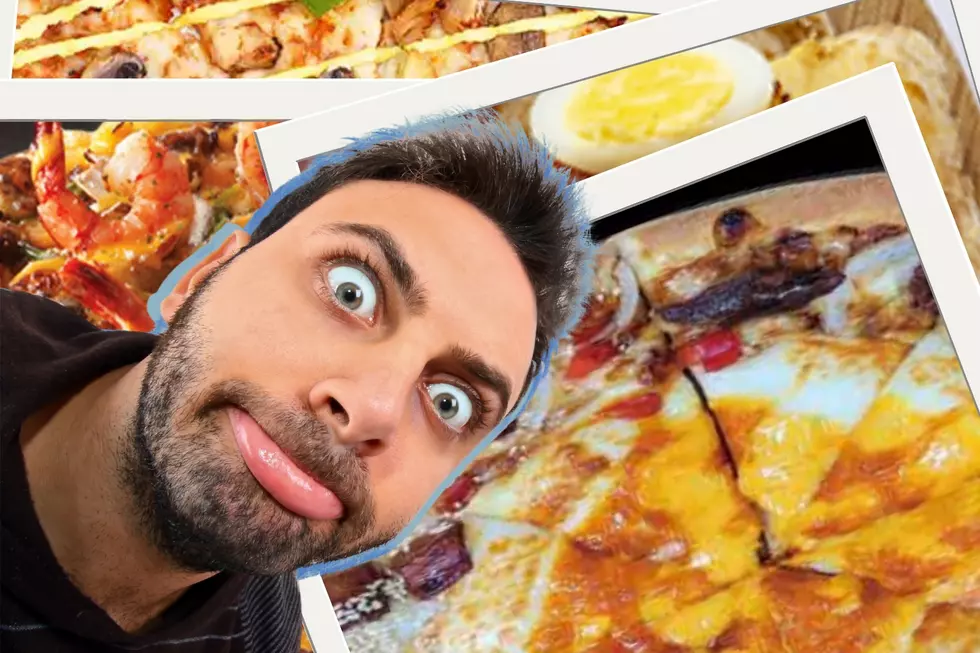 11 Wild Domino's Pizzas You Won't Find in Michigan
Photos via Domino's and Canva
When brothers Tom and Jim Monaghan started Domino's Pizza in Michigan back in 1960, there's no way they could have imagined the brand would become the largest pizza company in the world.
Domino's went international in 1983 when it opened its first store outside the United States in Winnipeg, Manitoba, Canada. Since then, it's expanded to dozens and dozens of countries around the globe.
Here in Michigan and around the rest of the United States, we're used to cheese and pepperoni, maybe some ham or sausage and an assortment of veggies on our Domino's Pizza.
If you draw the line at pineapple on pizza, just wait until you check out these 11 wild Domino's Pizzas from around the world!
Black Tiger Shrimp Pizza
If you order from Domino's in South Korea, you can get one of these - the Black Tiger Shrimp Pizza. It also comes with "real bulgogi, romano cream cheese, mozzarella, parmesan cheese, and onion". Wanna go surf and turf? Get a half-and-half with this one and the Wild Wild West Steak Pizza, featuring American beef.
---
Portuguese Pizza
Domino's Brazil has a Portuguese Pizza, featuring cheese, ham, quail egg, black olive, onion, oregano and green pepper. Here in Michigan, one of those things stands out as a little more unusual than the others. You're a smart egg - we'll let you figure out which one.
---
Indi Chicken Tikka Pizza
The Indi Chicken Tikka Pizza from Domino's India comes with tandoori masala with chicken tikka (chicken marinated in yogurt), onion, red paprika, and mint mayo. Mint mayo? Not something you'll find on the menu at Domino's in Michigan.
---
Bazaar Pizza
On a date in Iceland? Treat your date to a pizza with actual dates! At Domino's Iceland, you can order the Bazaar Pizza - featuring cream cheese, dates, mushrooms, red onion, spinach, and black pepper.
---
Seafood Special
Seafood is popular in Japan, and Domino's Japan appeals to its customers with the Seafood Special. This pizza goes all out with shrimp, squid, clams, baby scallops, green peppers, cherry tomatoes, parmesan cheese and white sauce.
---
Chicken Béarnaise Pizza
You can get the Chicken Béarnaise Pizza at Domino's Denmark. Comparatively speaking, this one's pretty simple. It features chicken, mushrooms, béarnaise dressing, and spring onion.
---
Goat Cheese Bacon Pizza
Do you love goat cheese? Do you love bacon? Throw in a little mozzarella, fresh spinach and honey, and you've got the Goat Cheese Bacon Pizza from Domino's Belgium.
---
Saumoneta Pizza
Who says salmon doesn't belong on pizza? Order the Saumoneta Pizza from Domino's France and enjoy beechwood smoked salmon on your pizza, along with light French crème fraîche, mozzarella, onions, and sautéed French potatoes.
---
Alfredo Prawn Pizza
If you order from Domino's Singapore, you can enjoy the Alfredo Prawn Pizza. This one not only says yes to pineapple, but throws on some prawns, mozzarella, red pepper and onion with a top-secret alfredo sauce too.
---
Alabama Pulled Pork Pizza
Um, why isn't this a thing here in Michigan? Domino's Spain has an "American Legends" series of pizzas, including the Alabama Pulled Pork Pizza. This one comes with smoked pulled pork, original barbecue sauce, mozzarella and cheddar, corn, and ranch sauce.
---
Double Golden Eel Sukiyaki Beef Pizza
Michigan's not likely to ever see this one. One of the most popular pizzas at Domino's Taiwan is the Double Golden Eel Sukiyaki Beef Pizza. This one's got onion, red pepper, sukiyaki beef, cheddar cheese, mozzarella sticks, kabayaki eel, and sesame.
It's a nope from me, dawg.
Old Michigan Pizza Joints
Most Interesting Pizza Topping Combos in the Lansing Area
Pizza has to be one of America's favorite foods. As Americans, we consume around 3 billion pizzas each year, which evens out to about 23 pounds per person per year. And that's a heck of a lot of pizza. With so many people eating so much pizza, of course, we're going to see some awesome variety when it comes to toppings, from the standard to the wacky. If you want to step outside of your comfort zone and take your tastebuds on an adventure, check out some of these Lansing area restaurants that have the most unique pizza topping combos around.