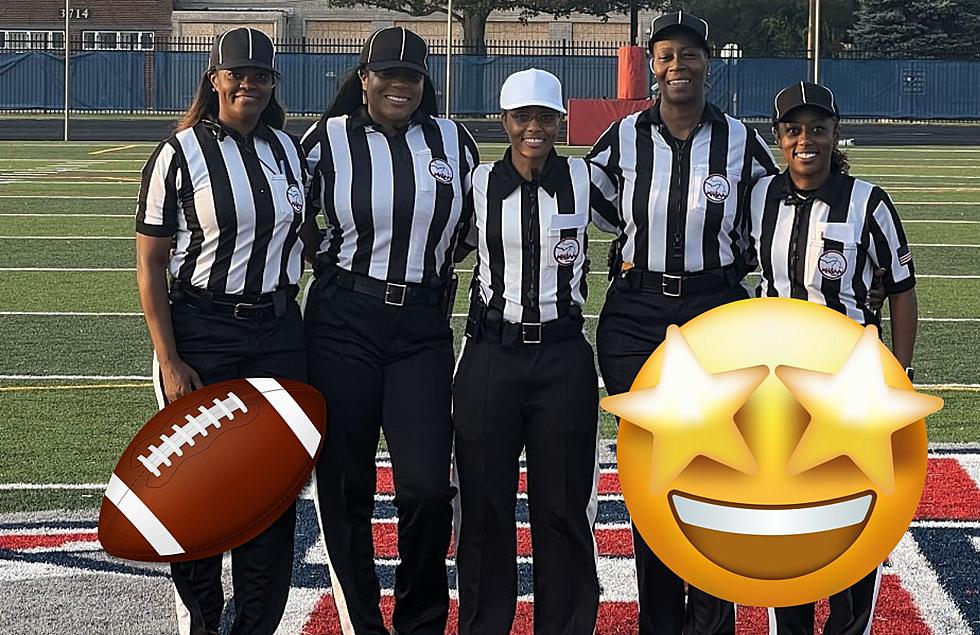 Women Making History! All-Female Officiating Crew First of Its Kind in Michigan
Michigan High School Athletic Association / Canva
They are making HERstory!
The team and audience at Detroit Mercy at a September game did not think they would be witnessing history!
That is exactly what happened!
All-Female Officiating Crew
On September 21st, something revolutionary happened!
Head line judge Caryn Jackson, referee Nicole Randolph, line judge Delonda Little, umpire RanDee Henry, and back judge Kamaria Douglas officiated the Waterford Kettering versus Detroit Lincoln-King varsity game at Detroit Mercy.
This beautiful moment is even better because all of these women are friends!
RanDee shared that,
"This game, although historic, was even more amazing because I got to do it with friends. All of these women have strong friendships on and off the field, making this moment even more amazing and monumental."
The Michigan High School Athletic Association shared they believe that this group of women are
"the first all-female officiating crew for a varsity football game in state history."
How amazing!
The Reaction
With the HERstory moment in mind, Caryn Jackson posted what was happening on her X (formerly known as Twitter) feed.
Within an hour, the post had 23,000 engagements.
Delonda Little shared the importance of moments like this one.
"Women are breaking barriers, and it's nice to be acknowledged and to have some gender equality out there. "We all felt good to get the support during the game from the coaches and the fans. Both coaches told us we did a great job. Coaches wanted to take pictures with us to be a part of the historical moment. Fans as we were leaving told us we did a good job."
How do you feel about this beautiful moment?
10 Michigan State Players Who Must Immediately Decide Whether Or Not To Transfer
With Mel Tucker officially fired, a 30-day transfer window has opened for all Michigan State players. Ten of those players have an unused redshirt season but have played in four games this season, meaning they cannot play another snap this year without losing that redshirt eligibility. Here are their names.