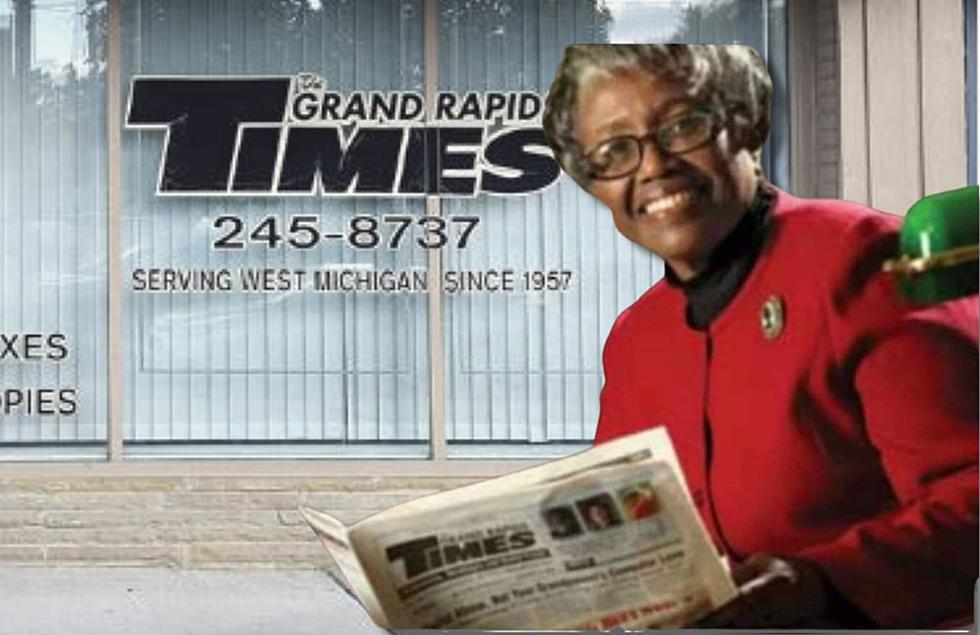 Dr. Patricia Pulliam Is The Publisher of the Grand Rapids Times and Co-Founder of the Giant Awards
Canva
All month long, the Grand Rapids Historical Society and I will be sharing Black History facts that have taken place right here in Grand Rapids.
If you missed the last one, you can learn about Emory Douglas, an artist, activist, and Minister of Culture for the Black Panther Party.
Today's Blackity Black History Fact is all about Dr. Patricia Pulliam, an educator, publisher of the Grand Rapids Times, and co-Founder of the Giant Awards.
Dr. Patricia Pulliam has dedicated her life to uplifting and empowering the Black community here in Grand Rapids: first as a Grand Rapids Community College educator and later as a newspaper publisher.
Relocating to Grand Rapids in the 1960s to teach at Central High School, Dr. Patricia continued her professional journey in the early 1970s at what was then Grand Rapids Junior College as a language arts instructor and advisor to the Black Students Union.
She later became chair of the Council for Minority Concerns, an advisory group to the president of the college that worked to attract, support and retain Black and brown students. 
The council was active in their efforts to help students; organizing conflict resolution workshops, hosting an annual banquet for minority high school seniors and their parents, and establishing a loan fund to help African American, Hispanic, and Native American students.
Patricia and her husband Yergan purchased The Grand Rapids Times in 1986. Founded in 1957, the newspaper is the oldest existing weekly publication for the Black community in Grand Rapids.
Today, Dr. Pulliam remains active as both publisher and editor. The Grand Rapids Times is distributed across the city and also Battle Creek, Kalamazoo, and Muskegon. 
In 1991, Grand Rapids Junior College became Grand Rapids Community College. Dr. Patricia then became executive vice president and vice president for instruction and administration at GRCC. She completed her 30-year college career and served as interim president in 1998 – she was the first woman and African American to lead at GRCC. She received an inaugural Salute to Women Award in 1999. 
Working with Cedric Ward, she created the Giants Awards in 1983 to recognize exceptional Black leaders and organizations that have impacted the West Michigan community in the areas of justice, education, religion, medicine, humanities, business, and labor.
Each award is named in honor of Black Grand Rapids pioneers who shaped our city. Dr. Pullium was awarded the Hattie Beverly Education Award in 1988 and in 1995, she was honored with the prestigious GIANTs Among Giants Award sharing it with her husband Yergan.
This year, the Giants Awards, hosted by Grand Rapids Community College, celebrates 40 years. On February 25th, 2023, the legendary gala will take place honoring all of the past Giants award recipients.
We extend our gratitude to Dr. Patricia Pulliam, a true trailblazer, life-long advocate, and hero for the Black community here in Grand Rapids. Because of her undying passion to remind us of our power in so many ways, we are able to celebrate our beautiful local Black history and legacy and continue to share our Black stories our way.
Next time you pick up the Times, you'll know the amazing Black woman behind the publication, and next time you're at the Giants Awards, you'll remember the creator of it all. Thank you Dr. Pulliam for all you do and for all you are.
You truly are our Giant among Giants.
LOOK: 50 essential civil rights speeches
Many of the speakers had a lifetime commitment to human rights, but one tried to silence an activist lobbying for voting rights, before later signing off on major civil rights legislation. Several fought for freedom for more than one oppressed group.
Keep reading to discover 50 essential civil rights speeches.