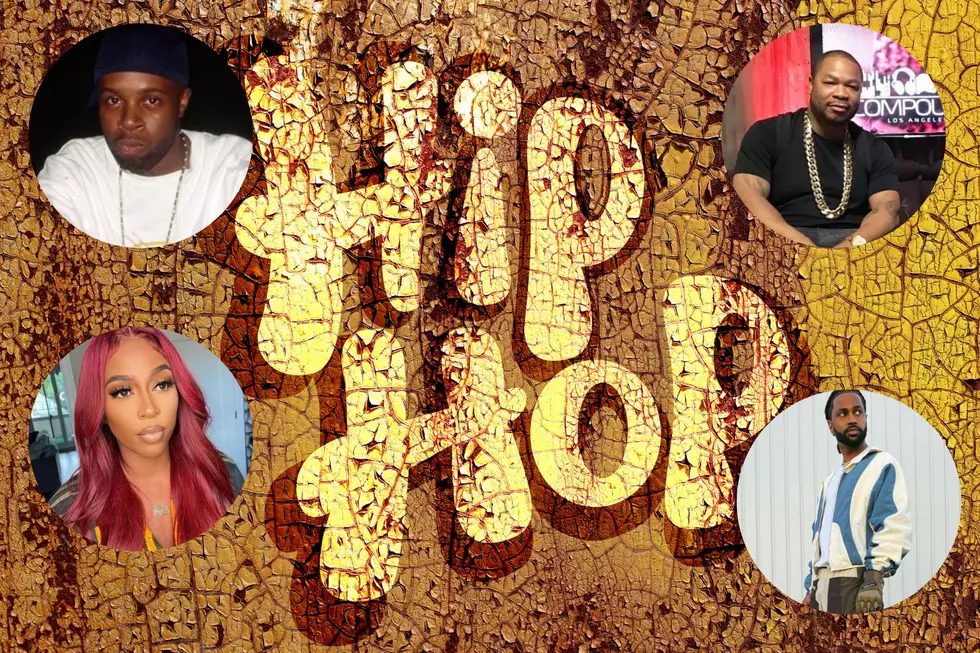 Happy Hip Hop Celebration Day! Here are 8 famous rappers from Michigan you didn't know
Credit: Canva & Instagram
Happy Hip-Hop Celebration Day!
On August 11th of 1973, DJ Kool Herc held a back-to-school party in the West Bronx. Kool Herc was the first DJ to use two turntables to separate and emphasize the breaks in popular songs during that time, such as James Brown's "Give It Up or Turnit a Loose" and The Incredible Bongo Band's "Bongo Rock." Herc credited his technique as "The Merry-Go-Round."
This legendary party changed the landscape of music that we know today. It established a new genre of music and culture: hip-hop. 49 years later, hip-hop is one of the most mainstream genres, filling up Billboard charts daily. DJ Kool Herc described the day:
"From old catz to the new catz... From old skool to new skool. From east coast to west and to the world! If you're listening on vinyl, or listening digitally! If you're Rockin the Mic, Spinning on the 1's & 2's, or breaking to the beats! You're a child of Hip-Hop! Hip-Hop is eternal and legendary. We're rocking & neva stopping! If you're new to this Hip-Hop world, introduce yourself to the history books of Hip-Hop. Might learn you something!"
 

 

 

View this post on Instagram

 
In 2021, Congress finally passed a bill that would officially recognize August 11th as "Hip Hop Celebration Day."
View this post on Instagram
Starting off in the hip-hop collective, Dirty Dozen or D12, Eminem is one of the best-selling music artists of the 21st century. He has sold an estimated worldwide sales of 220+ million records, according to Wikipedia. Eminem has an upcoming documentary about his life coming soon. Most famous work:
Lose Yourself
My Name Is
The Real Slim Shady
Without Me
The Way I Am
 

 

 

View this post on Instagram

 
Xzibit's journey in the industry started in 1996 when he released his first album, "At the Speed of Life." It peaked at number 74 on the US Billboard 200. He later released his second album, "40 Dayz & 40 Nightz," which peaked at number 53 on the US Billboard 200. With this album's success, he gained the attention of Dr. Dre, who later was the executive producer for Xzibit's third album, "Restless." Besides being a successful rapper, Xzibit also has gained traction as an actor and television host. He played Shyne Johnson in the hit series, Empire. He was also the host for the reality show, Pimp My Ride.
Best known for:
X
My Name
Alkaholik
Don't Approach Me
Get Your Walk On
View this post on Instagram
Tee Grizzley gained mainstream recognition after he started rapping while he was in prison. In 2017, he released his first single, "First Day Out," which peaked at number 48 on the US Billboard Hot 100. The single went viral after LeBron James made a video that sparked the "LeBron James Challenge."
Best known for:
First Day Out
No Effort
Colors
From the D to the A (feat. Lil Yachty)
 

 

 

View this post on Instagram

 
While he started his career in 2007, Big Sean's big break happened in 2010 with his third mixtape, Finally Famous Vol. 3: Big. He later signed to GOOD Music/Def Jam. He followed up with his second and third albums, Hall of Fame and Dark Sky Paradise. With his mainstream success from "I Decided," Twenty88, and "Detriot 2," Big Sean has also been an advocate for helping his community. In 2012, Sean started the Sean Anderson Foundation, which is set up to help "underserved children and families in his native Detroit," according to Wikipedia.
Best known for:
 I Don't F*** With You
I Know
Blessings
Beware
Clique
Bounce Back
View this post on Instagram
Known as the producer of soulful hip-hop, J Dilla was one of the most influential producers in hip-hop history. He started in the mid-90s as a member of Slum Village. Besides Slum Village, he was also a part of the collective, Soulquarians and Jaylib, a collaboration with Madlib. Unfortunately, J Dilla passed away at the age of 32.
Best known for:
Welcome 2 Detroit
Common's The Light
Workinonit
The Pharcyde - Runnin
Last Donut of the Night
View this post on Instagram
Best known for "For Everybody" and "Ice Me Out," the Republic Records signee has become a force in the rap game. In the beginning stage of her career, Drake invited her to open his Detroit stop on his Summer Sixteen Tour. Besides her rap career, Kash Doll has entered into the acting realm. She was in 2 episodes of Empire and has a recurring role on Starz' BMF.
Best known for:
For Everybody
Ice Me Out
Doin Too Much
Ready Set
Here I Go
View this post on Instagram
While Babyface Ray is one of the recent rappers, his accolades speak for themselves. He has produced 26 #1 hit songs. Also, Babyface Ray has won 12 Grammy Awards, which secured him a ranking on NME's list of the 50 Greatest Producers Ever.
Best known for:
Let Me Down
Tunnel Vision
NO SECURITY
If You Know You Know
What The Business Is
View this post on Instagram
Sada Baby rose to fame after his 2018 single "Bloxk Party" went viral internationally. When he released his first studio album, Skuba Sada 2 in 2018, it peaked at 125 on the US Billboard 200. In the same year, "Whole Lotta Choppas" went viral on TikTok. Sada later released a remix with Nicki Minaj and the song landed at number 25 on the Billboard Hot 100.
Best known for:
Whole Lotta Choppas
Akitivated
Slide
Little While
Skuba Says
A Peek Inside Kalamazoo's Heritage Guitar Factory Where Music History Was Made
Heritage Guitar Factory, which was the Gibson Guitar Factory in Kalamazoo, Michigan