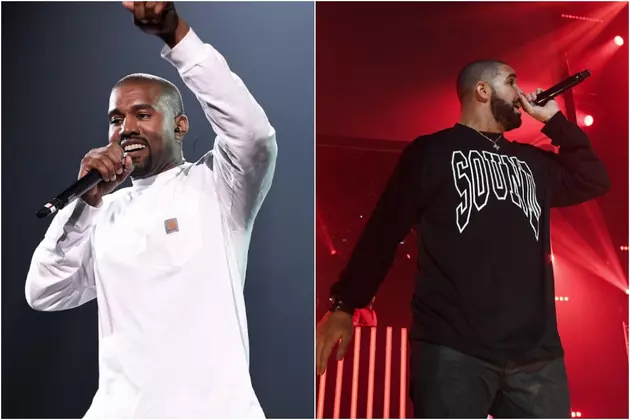 Are Kanye West and Drake Dropping a Song Today?
Dimitrios Kambouris / Paras Griffin, Getty Images (2)
Are Kanye West and Drake dropping new music at today's Yeezy Season 5 show in New York City? Yesterday (Feb. 14), a promotional photo emerged online for Yeezy Season 5, and Drake's name is listed on the flyer.
GQ style writer Jake Woolf uploaded the photo to Twitter, along with a picture of some of the expected Yeezy Season 5 merchandise. On the promotional photo, Kanye West's and Drake's names are listed in big font surrounded by the words "Lost Hills," which is a reference to Calabasas, Calif. When asked about Drake's relevance here, Woolf said, "My assumption it's just the release of a single."
People online are speculating that "Lost Hills" could be the title of a new single from 'Ye and Drizzy. If that is the case, the new record is sure to set the Internet, and Twitter especially, completely ablaze.
Back in September, Kanye West confirmed that he has a joint album on the way with the Views rapper. "We're just working on music, working on a bunch of music together, just having fun going into the studio," West said in an interview with Vogue. "We're working on an album, so there's some exciting things coming up soon."
20 Hip-Hop Albums Turning 10 in 2017