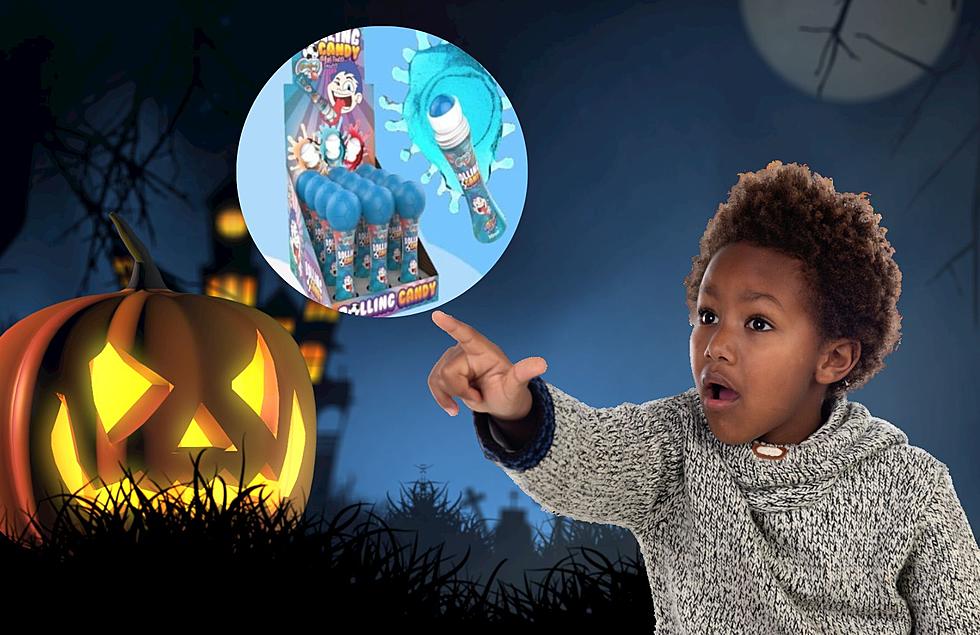 Massive Candy Recall Affects Halloween For Kids In Michigan
Canva
Oh No!
Is Halloween canceled?
It may be after these two massive candy recalls went into effect.
What Candy Is Recalled?
If you see any of these candies, you should avoid them.
KGR Distribution has announced a recall of over 145,000 candy products!
"The U.S. Consumer Product Safety Commission (CPSC), Asaf Gida d/b/a Cocco Candy, of Turkey, and KGR Distribution Corp., of Passaic, New Jersey, are announcing the recall of about 145,800 Cocco Candy Rolling Candy in various flavors. The candy's rolling ball can dislodge and become trapped in a child's throat, posing a fatal choking risk."
What Happened To Have The Recall?
There was an incident that happened where a 7-year-old little girl choked and died
"after the candy's rolling ball dislodged and became trapped in her throat in New York in April 2023."
What Candies Are Recalled?
KGR Distribution issued a recall for Cocco Candy Rolling Candy in many different flavors.
"This recall involves Cocco Candy's Rolling Candy consisting of 2 fluid ounces in various flavors including Sour Strawberry, Sour Tutti Frutti, and Sour Cola."
Cocco Candy Strawberry Flavored Rolling Candy - 8683363414008 - 8683363414367- 8683363414176
Cocco Candy T. Fruitti Flavored Rolling Candy - 8683363414015 - 8683363414367 - 8683363414176
Cocco Candy Cola Flavored Rolling Candy - 8683363414022 - 8683363414367 - 8683363414176
All parents are being asked to stop using the recalled rolling candy immediately, take it away from children, and contact KGR Distribution for a refund.
You can call KGR toll-free at (888) 802-8823 from 9 am to 5 pm Monday through Friday, reach out by email at Recall@kgrdistribution.com or online at www.kgrcandies.com and click on "Recall Information" at the top of the page for more information.
Another Recall On Candy Is Also Happening
One source says that Indiana-based Candy Dynamics announced on Thursday that it has to recall roughly 70 million Slime Licker Sour Rolling Liquid Candy products.
"While no injuries have been linked to its treats, the company said its received two reports of the rolling ball detaching from the container."
From June 2015 through July 2023, the Slime Licker Sour Rolling Liquid Candy were sold at Walmart, Five Below, and other stores across the country, as well as online at Amazon.com, CandyDynamics.com, and other websites.
If you have eaten these products that were sold in blue, green, red, and pink packaging with "TOXIC WASTE" brand and "SLIME LICKER Sour Rolling Liquid Candy" or "MEGA TOXIC WASTE" brand and "SLIME LICKER Sour Rolling Liquid Candy" visibly on it, please stay clear.
Consumers should contact Candy Dynamics in order to get a  full refund of products that aren't empty of liquid candy.
Local Candy Stores You Have To Check Out In Mid-Michigan
Whether it be Halloween, Christmas, or just a regular day of the year. Who doesn't love a good Candy Shop? But, where do you even go in Mid-Michigan to find a candy shop? Lansing isn't really a tourist destination like Frankenmuth or Mackinaw. Well, we've compiled a list of some places you can check out here in Mid-Michigan.
Michigan Candy Shops and Confectioneries: 1890-1964