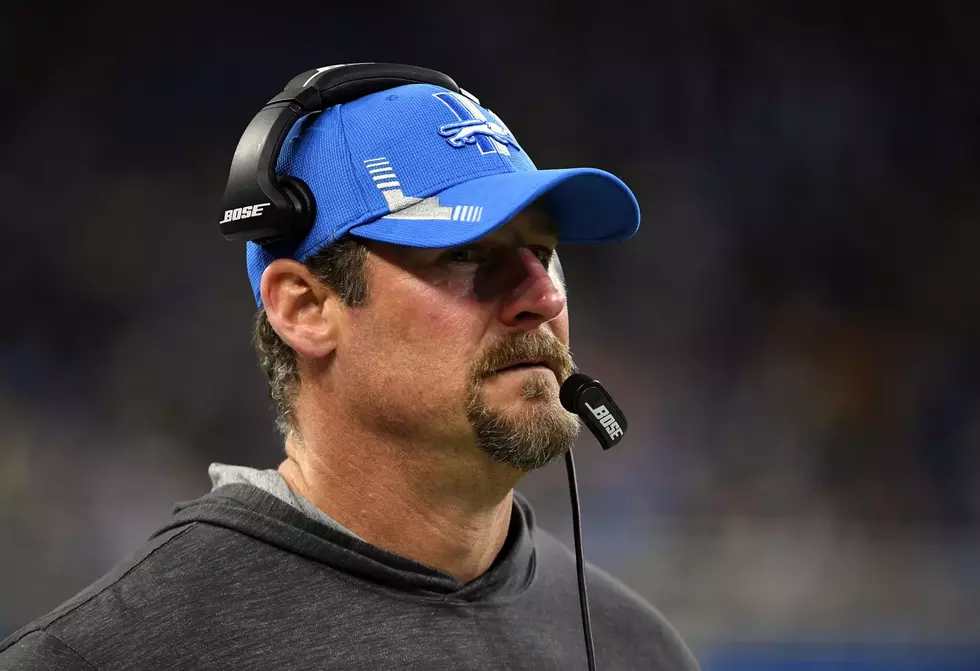 Regardless of Sunday's Result, The Lions 2022 Season Is A Success
Getty Images
This is an article that I didn't expect to write when the Detroit Lions (Your Gridiron Heroes) were 1-6 and head coach Dan Campbell (pictured) was losing games with some bad "game management", so to speak.
I mean, it was SOL (Same Old Lions)-type stuff that were were seeing.  Penalties, turnovers, poor coaching, etc.
But since they defeated the Green Bay Packers back in Week 9 at Ford Field, as the late great George Allen once said..."everytime you win, you are reborn!!  Well, the Lions have been reborn.  And, as the title suggests, even if the Lions lose to the Green Bay Packers and/or miss the postseason.  This 2022 season has been a success.  Here's why:
QUARTERBACK PLAY
Starting QB Jared Goff has played so well this season, the team doesn't need to draft a QB with one of their two first round picks this spring.  Goff has thrown for more than 4,000 yards, and has thrown only seven interceptions.  No, he's not the most mobile QB.  But he's been much better than I, and many other fans/media, expected him to be.
And he's signed for two more years with a cap number of over $30 million next year.  He's not going anywhere.
RUNNING GAME
Jamaal Williams, DeAndre Swift, and Justin Jackson have combined to provide a potent enough running game to help supplement Jared Goff.  Williams is six yards away from the 1,000 yard plateau, and he's rushed for 15 touchdowns. Which is amongst the best in the league.
Potential problem?  Williams and Jackson are unrestricted free agents after the season.  And Swift is entering the final year of his rookie contract in 2023.  Resigning or extending one or two of these guys is suddenly a priority.
LOW ROUND DRAFT PICKS PRODUCING
This is led by second-year wide receiver Amon-Ra St. Brown.  The former 4th round pick is turning into one of the best wide receivers in the league.  He's got over 1,100 yards receiving despite battling injuries this season.
Other lower round picks who have contributed are:  Malcolm Rodriguez and James Houston (both 6th round picks in 2022), Alim McNeill (3rd round pick in 2021), and 2020 3rd and 4th round picks Jonah Jackson (3rd) and Logan Stenberg (4th).  They have all started games this season and played well.
THE DEFENSE IS BETTER
Even though it still needs work, the improvement of this unit throughout this season has been a revelation.  They were God-awful in the first half of the season.  Remember the Miami and Seattle games?  They couldn't stop most college teams in those games.
But they have improved.  Rookie Aidan Hutchinson is a factor, the aforementioned Rodriguez and Houston have been excellent.  So has linebacker Alex Anzalone.  And safety Kerby Joseph has played well after losing starting safety Tracy Walker early this season due to injury.
They need more players on the defensive side of the ball, which they will likely address this coming off-season.  But their improvement is very noticeable.
FINALLY, HEAD COACH DAN CAMPBELL IS STARTING TO FIGURE IT OUT
The second-year Lions head coach was under heavy criticism after his decision-making cost the Lions a win over Minnesota early this season.  He has made other questionable calls this season that have contributed to other losses.  And he was flat-out outcoached by Carolina's Steve Wilks on Christmas Eve.  Campbell pretty much has admitted that.
But the team is playing hard for him, and he seems to be figuring out how to be a head coach in the NFL.  He has four years left on his contract, so he's not going anywhere.
So eve if the Lions finish 8-9, this 2022 season is a success.  Because for the first time in several years, there is legitimate optimism surrounding the franchise.  What a refreshing change!!
You can hear Sunday's Lions at Packers game here on The Game 730 AM WVFN.  With pregame coverage beginning at 7:15pm.
RIP Spartan Hall of Fame Cafe: It Really Was Great Food, Great Memories
Spartan Hall of Fame Cafe is no more, demolished to make way for East Lansing's second Chipotle.