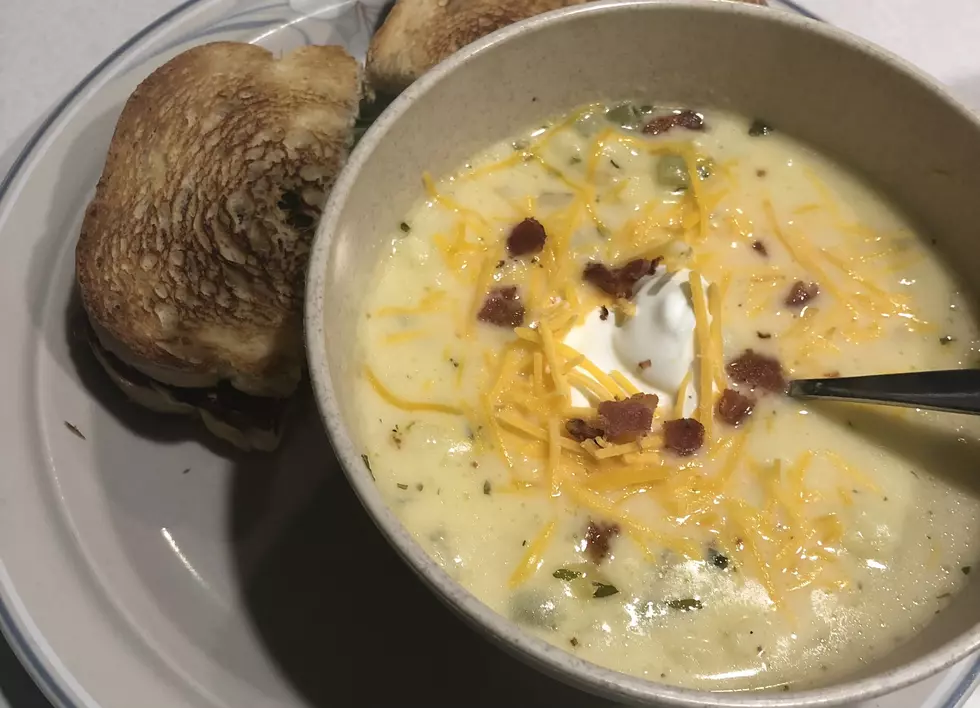 Steve's Cheesy Cauliflower Soup Recipe
Photo by Steven Bohner
Steve wanted to share one of his absolute favorite recipes of all time and he figured since this winter is finally starting to feel like winter, this is the perfect time.  It's Steve's cheesy cauliflower soup and it's delicious and only takes about 35 minutes to make.
Ingredients
5 tablespoons butter
1/3 cup diced yellow onion
1/3 cup celery diced
1 head of cauliflower chopped
1/4 cup flour
3 cups milk
1 cup shredded cheddar cheese
1 teaspoon dried parsley
3 cups chicken stock
1 bay leaf
Directions
Melt 2 tablespoons butter over medium heat in a large pot.  Once butter is melted, add onions and celery and saute while stirring until onions are starting to brown on the edges.
Add cauliflower and parsley to the onions and celery and mix.  Set the heat to low, cover the pot and cook for about 15 minutes.
Uncover the pot and add chicken stock and bay leaf.  Turn heat to high and bring to a boil.  After it is boiling, reduce heat, cover with lid and let it simmer.
While the soup is simmering, melt 3 tablespoons to of butter over medium-high heat.  Once the butter is melted, add flour to butter and mix until it combines and starts to turn a light brown after about a minute.
Slowly poor in the milk, mixing the flour and butter with it using a whisk.  Once the milk is combined, add the cheese and mix until cheese is melted.
Add the milk, flour, butter, and cheese mixture to the soup pot and mix and let the whole thing simmer for about 5 minutes.
Remove bay leaf and serve in bowl.  You can spice up the soup with cheese, bacon, sour cream, and/or chives.
Below you can check out photos of the steps.
Add celery and onions and saute.  Then add cauliflower and dried parsley and cook on low heat.
In a separate pot, melt butter, add flour, then add milk and finally cheese and then combine slowly.
Add broth to the cauliflower and simmer. Then after the cheese is melted add the cheese sauce to the main pot and let it simmer for about 5 minutes.
How to Make a Sous Vide Pork Loin Chop