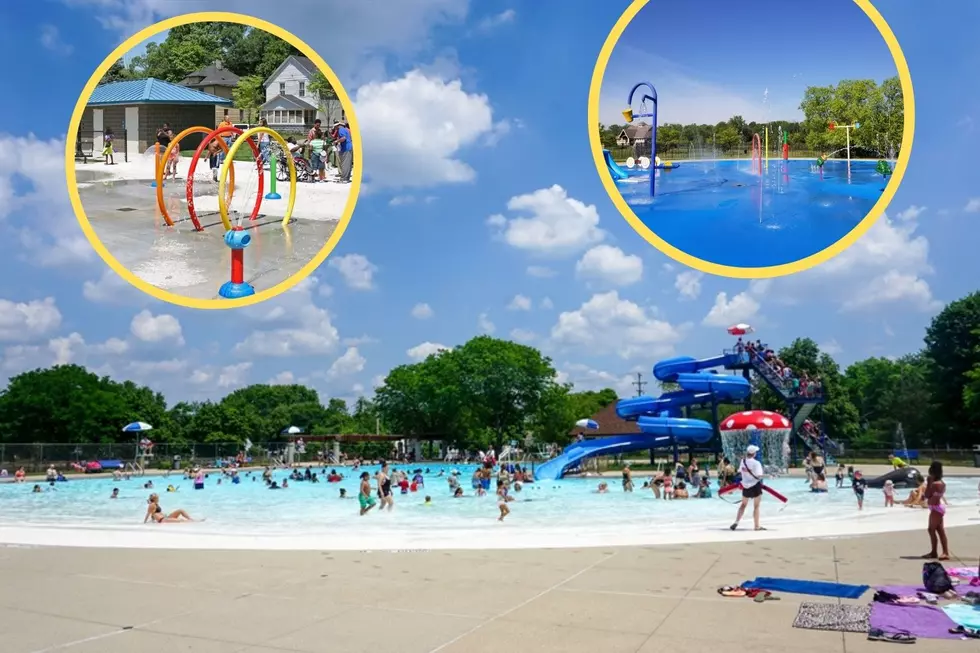 When Do Grand Rapids Pools and Splash Pads Open in 2023?
City of Grand Rapids Parks and Recreation/ Facebook
With it feeling more and more like summer, you might be wondering when you can cool off in City of GR pools and splash pads. The answer is -- soon!
City of Grand Rapids Pools and Splash Pads Open June 9, 2023
According to the City of Grand Rapids, city-run pools and splash pads are set to open June 9, 2023.
The City of Grand Rapids has three pools:
Briggs Park (Lafayette and Knapp NE)
Martin Luther King  (Fuller and Franklin SE)

Richmond Park (Richmond and Tamarack NW)
Pool hours for the 2022 season are:
Mondays, 12:00 - 7:00 pm
Tuesdays, 12:00 - 7:00 pm
Wednesdays, 12:00 - 5:00 pm
Thursdays, 12:00 - 7:00 pm
Fridays, 12:00 - 7:00 pm
Saturdays,12:00 - 7:00 pm
Sundays, 12:00 - 4:00 pm
The pools are open daily through August 19.
How Much Does it Cost to Swim in a City of GR Pool?
Admission is $1 for Grand Rapids residents under 17, residents 18 and over are $3. For non-residents under 17 it's $3 and for those over 17, it's $5.
You can find info on punch cards and season passes here.
Grand Rapids Splash Pads Open June 9, 2023.
Splash pads are free!
There are 15 throughout the City of Grand Rapids. Hours are 10a.m. to 9p.m. daily, June 9 through September 10.
Aberdeen Park -2230 Eastern Ave NE
Alger Park - 921 Alger Street SE
Campau Park - 50 Antoine Street SW
Cherry Park - 725 Cherry Street SE
Fuller Park - 300 Fuller Avenue NE
Gerald R Ford Middle School - 851 Madison Avenue SE
Heartside Park - 301 Ionia Street SW
Highland Park - 523 Grand Avenue NE
Joe Taylor Park - 1030 Bemis Street SE
Lincoln Park - 231 Marion Avenue NW
Mary Waters Park - 1042 Lafayette Ave NE
Mulick Park - 1632 Sylvan Avenue SE
Roosevelt Park - 739 Van Raalte Drive SW
Wilcox Park - 100 Youell Avenue SE
SHUT. UP. This Waterfront Saugatuck Home For Sale Has An Indoor Pool
Amazing waterfront home in the city of Saugatuck with a permanent dock and 78' of frontage on Kalamazoo lake which feeds directly into Lake Michigan. Home boasts 2 suites--one of which overlooks the lake and features a 2 sided fireplace, wet bar, and access to the bonus room/cupola. 2 more guest bedrooms make a total of 4 bedrooms in over 3300 square feet of living space, complete with indoor pool.
At Least 3 Pools You Can Rent by the Hour in the Kalamazoo Area
Did you know that you can rent pools by the hour with an online service called Swimply? Here are three that are available in the Kalamazoo area.
$5 Million Michigan Mansion Comes With A Pool Fit For A Resort
This home for sale is located at 52120 Lake Park Drive in New Buffalo, Michigan, and could be yours for $5,000,000. It offers amazing views of Lake Michigan and also comes with an infinity pool straight out of a resort.