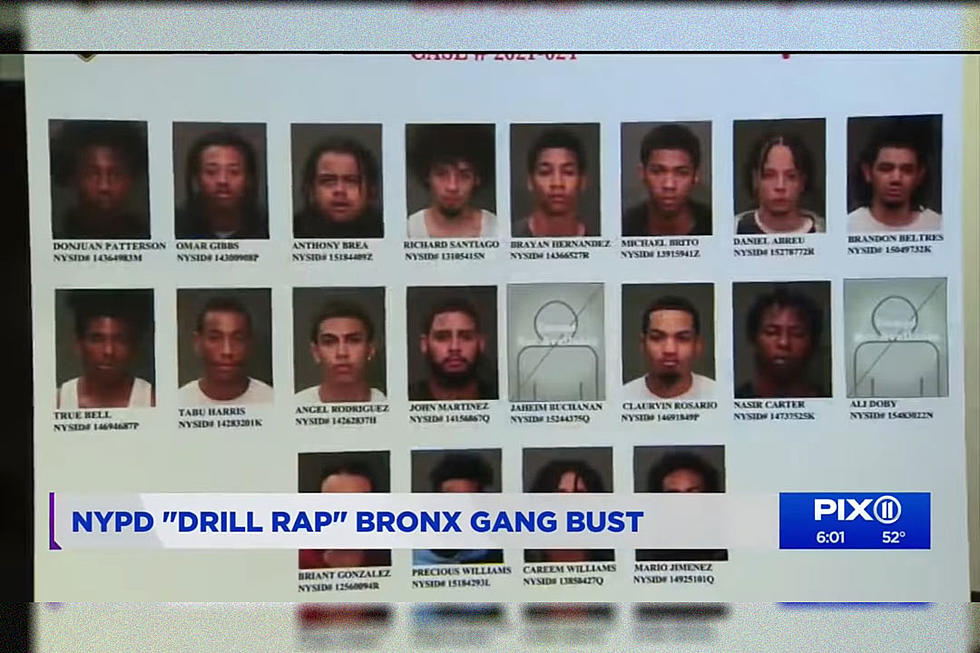 Drill Rap Music Videos Lead to Arrests of 20 Alleged Members of Bronx Gang
PIX11 News
The Bronx drill rap scene has been hit with a massive indictment from the borough's District Attorney's Office.
Last Thursday (April 7), the Bronx District Attorney Darcel D. Clark and New York City Police Commissioner Keechant L. Sewell announced a four-page, 82-count indictment in related to 32 crimes, aided by music and videos that emerged from the city's drill music genre, which includes 20 people. Four of which are adolescent offenders, who have been indicted on charges in relation to several shootings and stabbings within a three-year time period. The latest shooting took place on March 15.
The 20 individuals in question are allegedly members of the G-Side/Drilly gang, a subset of the Bloods Sex Money Murder gang, who carried out these crimes in the areas of East Gun Hill Road, Hull Avenue and Decatur Avenue—all in the Bronx—between September of 2018 and March of this year.
The investigation into the dozens of crimes, called "Operation Drilly," according to New York Daily News, found that the 32 crimes include incidents that were candidly mentioned in Bronx drill music.
The charges include conspiracy, murder, manslaughter, attempted murder, criminal possession of a weapon, reckless endangerment, assault, attempted assault and grand larceny. Eighteen guns were also recovered.
The indictment also included crimes dated for January of 2019 to October of 2021.
On Jan. 9, 2019, at approximately 1 p.m., four defendants, including one teen, and several others surrounded an 18-year-old CUNY Prep student, who left school and they attempted to rob him. The defendants allegedly attacked the victim with weapons, such as a knife. The victim was severely injured, needing emergency resuscitation and life-saving blood transfusions.
A year-and-a-half later, on July 20, 2020, six defendants, who were teenagers at the time, chased 24-year-old James Rivera. Four of the defendants allegedly shot the victim multiple times and one defendant allegedly attempted to stab Rivera when he fell to the ground. The victim's death was due to the gunshot wound to his back.
On Sept. 29, 2020, at 2 p.m., on East Fordham Road in the Bronx, two minor-age defendants allegedly fired shots at a target in a busy commercial area, not too far away from an MTA subway station. The incident caused potential harm to many people, including children. There were no reported injuries.
Then, a little over six months later, on April 25, 2021, three defendants allegedly assaulted a rival gang member inside the Robert N. Davoren Center in Rikers Island prison.
"These defendants allegedly engaged in dozens of acts of violence, including murder and attempted murder, over the last three years, with the most recent just a few weeks ago," District Attorney Clark explained. "The defendants allegedly committed multiple shootings, some in broad daylight, killing two people and injuring innocent bystanders. These defendants terrorized residents of the Fordham/Bedford Park neighborhoods who were forced to run for their lives as bullets flew."
Seven of the individuals listed on the indictment have been arraigned while the other 13 are in custody awaiting arraignment.
The names of the arraigned individuals, all of whom are from the Bronx, are listed as follows: Brayan Hernandez, a.k.a. Breezo, 17; Jaheim Buchanan, a.k.a. Jah, 17; Anthony Brea, a.k.a. Chubbs, 17; Michael Brito, a.k.a. Yogi, 20; Ali Doby, a.k.a. Lee Drilly, 19; Claurvin Rosario, a.k.a. Pegotes; a.k.a. Kelvin Rodriguez, 21; and Omar Gibbs, a.k.a. Leeky, 20.
The other defendants, who are also Bronx natives, include: Richard Santiago, a.k.a. Swift, 21; John Martinez, a.k.a. Suave Drilly, 23; Tabu Harris, a.k.a. Spazz Drilly, 21; Careem Williams, a.k.a. Houdini, 20; Mario Jimenez,  a.k.a. MB, 19; True Bell, 18; Nasir Carter, a.k.a. Nas Fourty, 19; Donjuan Patterson,  a.k.a. Bobby Drilly, 17; Precious Williams, a.k.a. PW Jet, 21; Daniel Abreu, a.k.a. D-Dot, 18; Brandon Beltres, a.k.a. Nonstop, 19; Angel Rodriguez, a.k.a. Milly2Drilly, 20; and Briant Gonzalez, a.k.a. Faze Drilly, 23.
While this development involves the Bronx drill scene, the overall New York City drill scene, including Brooklyn's sector, which is comprised of rappers like the late Pop Smoke, Fivio Foreign, Sheff G, Sleepy Hallow and more, was almost hit with a video ban. The city's mayor, Eric Adams, was pushing to prohibit NYC-based drill music from social media, following an announcement he made back in February. Adams claimed there was a correlation between drill videos and gun violence.
Days later, Maino, Fivio, rising Bronx drill rhymer B-Lovee and more met up with Eric Adams to discuss the ban the mayor was looking to place on drill music videos appearing on social media.
XXL has reached out to the Bronx District Attorney's Office for comment.
Watch New York's Pix11's report on the arrest below.
See 10 of the Shortest Beefs in Hip-Hop
Beefs within rap that ended quickly.