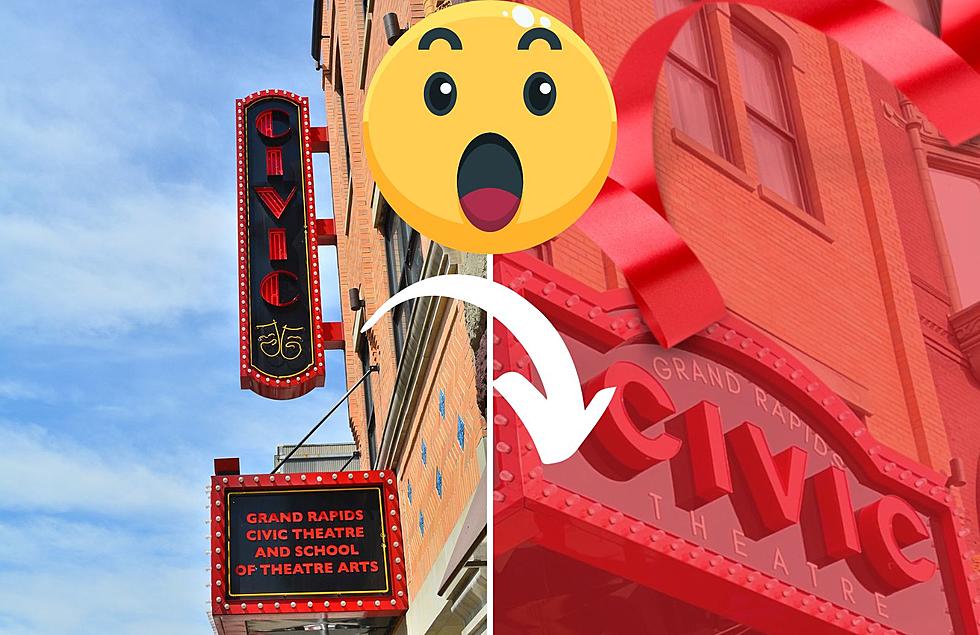 Grand Rapids Civic Theatre Will Unveil Their New Marquee Sign
Grand Rapids Civic Theatre / Canva
We love an upgrade!
One of Grand Rapids' iconic locations just received a little face lift.
If you have walked or driven down Division recently, you can easily spot the upgrade that happened at the Grand Rapids Civic Theatre.
Grand Rapids Civic Theatre History
Back in the 1920s, the "Civic Players" began producing four plays every single year in the St. Cecilia Auditorium in downtown Grand Rapids, Michigan.
"In 1935, the organization officially changed its name to the Grand Rapids Civic Theatre, and soon had over 1,600 season ticket holders and drew audiences of over 4,000 to each of six shows annually. The theatre continued to maintain itself through decades of economic and social changes."
Thanks to the Civic Players, the Grand Rapids Civic Theatre has become a staple in the Grand Rapids community.
"Today, the Grand Rapids Civic Theatre & School of Theatre Arts is the 5th largest community theatre in the country. We produce 9 mainstage productions each year with the help of over 800 talented volunteers who do everything from singing, dancing and acting, to building sets, sewing, ushering, and so much more. We truly are your community theatre!"
Grand Rapids Civic Theatre New Marquee Sign
Within the past few weeks, Grand Rapids Civic Theatre has replaced its former marquee sign. Now, they are ready to show it off.
On Wednesday, September 13th at 12:30 PM, Grand Rapids Civic Theatre, in partnership with Grand Rapids Chamber, is hosting its Ribbon Cutting ceremony.
According to the theatre's Instagram, the ceremony is all about celebrating Civic's long and beautiful history.
"We'd love to have you as we re-dedicate the marquee and celebrate Civic's new mission: To INSPIRE creativity and personal growth, ILLUMINATE our common humanity, and IGNITE connection across our community...through the power of Theatre Arts."
No worries about buying a ticket! There is no need for an RSVP either. You can come as you are to the ribbon ceremony.
Grand Rapids Civic Theatre Upcoming Shows
Speaking of the Grand Rapids Civic Theatre, you should support their upcoming shows for the 2023-2024 season.
As a matter of fact, I, Lisha B, am in the upcoming showing of Spongbob The Musical.
If you are free from September 15th until October 8th, you should buy a ticket to see the show.
You can get more information about the Spongebob show and the other amazing shows coming to Civic Theatre.
12 Famous People Who Were Born Or Lived In Grand Rapids.
They might have been born in Grand Rapids or lived here for a short time but definitely left their mark. Let's check out 12 famous people who were born or lived in Grand Rapids.
The Gypsum Mine of Grand Rapids