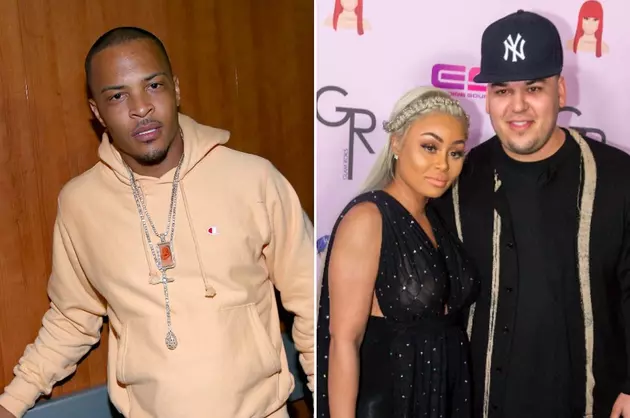 T.I. Offers Sound Advice to Rob Kardashian
Bennett Raglin/Greg Doherty, Getty Images (2)
Tip was spotted at LAX on Saturday (July 8) by TMZ, and despite Rob's attempt to call him out a few days ago, the Atlanta rapper took the high road and offered some jewels to the reality show participant.
"Don't tell women's business," the Kang starts. "That's bad. It's very, very bad. It's poor character. It's a flaw. If a woman done trust you, and confided in you with secrets and stuff like that, you don't never let that...you don't do that. Our secrets are sacred. That's a whole other level of fuck boy shit. I don't know how you gon' get pussy after that. Your hand ain't even gon' deal with you after that."
T.I. tried to offer advice when Rob was in the middle of his social media rant about Chyna's unfaithfulness, earlier this week. "Why bring ya business to IG tho? Look, you got worked bro….but at least keep it to yourself, you letting the world know you a duck," T.I. commented. "I mean a BIG DUCK, a might duck, Ronald McDonald the Duck, Scrooge McDuck, Howard the Duck, Huey Dewy & Lewie….save the #DuckTales just hold this L, kiss ya kid & cut ya losses & move on…u got no moves bro."
Somehow, Rob thought the proper clap back would be to allege that T.I. and Tiny had threesomes with Blac Chyna. "Since TI wanna chime in on business that don't concern him let's talk about the threesome you had with Chyna and your baby mama Tiny," Rob wrote on Instagram. "Don't speak on my daughter when u having threesomes with young Chy and Tiny ::: and I put that on my daughters life since u wanna speak on my daughter."
Check out the video of Tip dropping jewels below.
See 12 Rappers With Baby Mama Drama